Polvera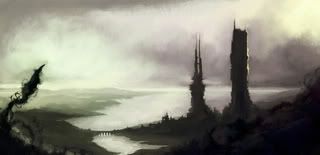 Humanity is making halting steps toward other star systems. An exploratory trip to the worlds around Tau Ceti has revealed the first conclusive evidence of an advanced civilization on an exoplanet. The first explorers named the planet Polvera, took several pictures, then moved on to the next world in the system.
You are a member of the international team sent to exhaustively explore and catalogue the ancient cultures who lived on Polvera. You are a swashbuckling archaeologist/astronaut with a ray gun and an opinion on everything.
Check out the Polvera forum and the Rules page for more information and discussion. Also, see the Dibs page to lay claim to a future entry.
The Schedule
Round one: ABC Wednesday, January 7, 2009.
Round two: DEF Saturday, January 10, 2009
Round three: GHI Wednesday, January 14, 2009
Round four: JKL Saturday, January 17, 2009
Round five: MNO Wednesday, January 21, 2009
Round six: PQRS Saturday, January 24, 2009
Round seven: TUV Wednesday, January 28, 2009
Round eight: WXYZ Saturday, January 31, 2009
---
Instructions for participating in the Polvera Lexicon
Join the site. See the start page for instructions. It also contains a link with information about lexicons.
Create a new page for your lexicon character by typing his, her, or its name into the Add a new page field to the left.
Add some details to your character page.
Go to the Participants page and add a link to your character page.
Read the Rules page.
If you have any questions or need clarification, email moc.liamg|malkav#moc.liamg|malkav
---
Back to the start page.
page revision: 26, last edited: 07 Jan 2009 04:24